Regular price
Sale price
$69.00 NZD
Unit price
per
Sale
Sold out
Stay hydrated with Rivendell Elixir: Rose Quartz Crystal Water Bottle.
Purify, revitalise and energise your water. The vibrational energy stored in crystals purifies and revitalises water, charging it with the healing power of each unique crystal.

Rose Quartz promotes healing, love and forgiveness, with more details about it below.
The bottle is made of high grade borosilicate glass which is cold and heat resistant meaning you can store ice cold drinks or boiling hot tea in this bottle.
They are designed right here in New Zealand by Rivendell, after having tried dozens of Crystal Water Bottles, and wanting to create the perfect one!
Plus, this way you can always change which crystal chips are in your water bottle, to suit the healing you currently need :)
The rose gold stainless steel base and lid of the bottle can be unscrewed. 
Cleaning Instructions: Hand wash with warm soapy water and rinse, drop dry preferably in moonlight to cleanse and charge the crystals.
Capacity: 550ml
Find out a little more about Rose Quartz below:
Country of Origin: Brazil
Meaning: Rose Quartz is said to be a powerful healing sacred mineral also known as the Stone of Love, or the Queen of Stones. The gentle and soothing energy it carries brings comfort to all forms of love - self-love, family relationships, friendships and romantic relationships. It helps to open up the heart, attracting acceptance, forgiveness and compassion, and reducing loneliness, stress and tension. 
Chakra: the heart and circulatory system
Ways to harness its energy: It is said that the healing powers of Rose Quartz can be felt most strongly by keeping it close to your heart, and a perfect way to do this is through a drinking water bottle! To strengthen your bond with a loved one, place it in a mutual space such as the bedroom or living space. At night, place it on your bedside table to experience peace and beautiful dreams. It is best recharged in moonlight. 
Share
View full details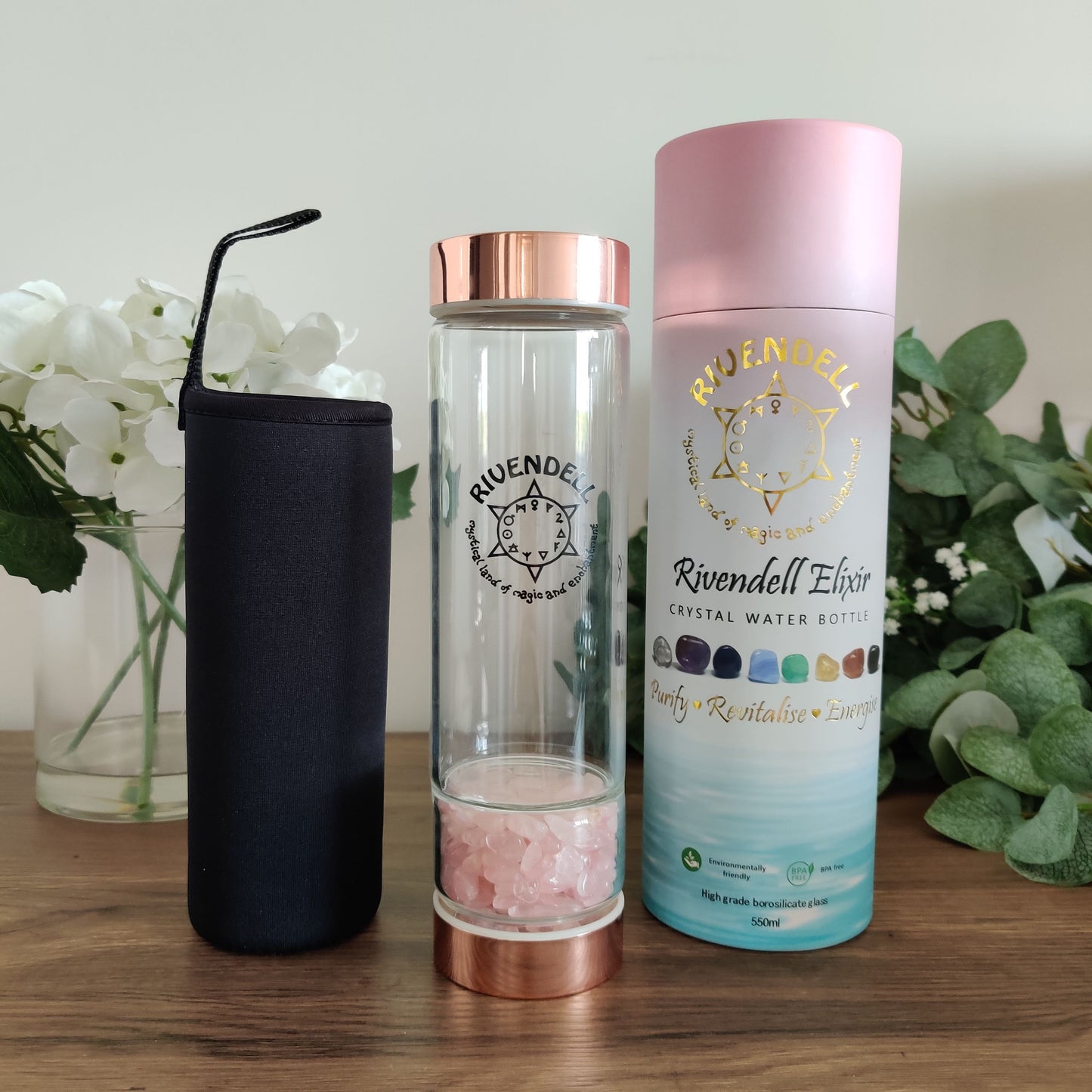 Rivendell Elixir: Rose Quartz Crystal Water Bottle
Beautiful!
Really loved it and my friend whom I bought it for as a birthday present was extremely happy :) Thank you x I did, however, find it a bit strange that I had to reply within 3 days to confirm that I had purchased it otherwise it seemed like the order would be cancelled. I used afterpay to purchase it and had already paid the first 25% and if I hadn't seen that email, I don't see how that's fair so you guys may want to look into that. I also waited a while for it to be sent out and started to wonder where it was? other than that, amazing looking product! Hope it works wonders for her x
Rivendell Elixir: Rose Quartz Crystal Water Bottle
Rivendell Elixir: Rose Quartz Crystal Water Bottle
Beautiful!
Really loved it and my friend whom I bought it for as a birthday present was extremely happy :) Thank you x I did, however, find it a bit strange that I had to reply within 3 days to confirm that I had purchased it otherwise it seemed like the order would be cancelled. I used afterpay to purchase it and had already paid the first 25% and if I hadn't seen that email, I don't see how that's fair so you guys may want to look into that. I also waited a while for it to be sent out and started to wonder where it was? other than that, amazing looking product! Hope it works wonders for her x
Rivendell Elixir: Rose Quartz Crystal Water Bottle